Green Tara Weekend Retreat to Mitigate Global Warming
Venerable Gyalten Chimé
March 24 - 26, 2023
"The threat of climate change is not limited by national boundaries — it affects us all.
We must work to protect nature and the planet, which is our only home."
His Holiness the Dalai Lama
Join us for a weekend intensive of Green Tara practice to purify the obstacles for the success of efforts to address the global climate crisis.
Since end of December 2022, a multi-state group has been reciting the Tara mantra with the motivation to purify our collective harm as humans to the environment and its inhabitants. We aim to create the causes to bring swift action to mitigate global warming through invoking Tara's blessings.  For more information on the 10 million mantra, multi-state effort please visit www.10milliontaras.com
This weekend retreat will allow us to come together and do group practice sessions of Green Tara recitations.  Additional to the mantra recitation sessions, Ven. Chime will offer extended time for meditation sessions using glance meditations on lamrim and bodhicitta to enhance setting the motivation for our practice sessions.
Schedule
Day 1 – Check-in (3-5pm), welcome talks , evening session
Day 2 – Multiple practice sessions, discussion groups
Day 3 – Final practice session, closing, lunch and checkout
Student Level
All levels of students are welcome to attend.  No initiation to Tara is required for this weekend retreat.
Silence
Partial silence – we will keep silence in the gompa and library in between sessions, along with strict silence from the end evening sessions until end of breakfast the next morning.
Covid Policy – Rapid Tests Required
To ensure everyone stays healthy and can participate in the retreat, we require everyone to take a home rapid covid test within 24 hours of arrival. Guests should take the test before coming and can share a negative result by emailing office@vajrapani.org or showing the negative test result upon arrival.
Please note that it is the guest's responsibility to get a rapid test (available at local pharmacies) and take it before arrival.  While we do stock some rapid tests, our supply goes down quickly, and we can't stock enough for every guest.   PCR test results are also ccepted.  Vaccine/Booster status cards do not negate the need for a negative rapid test result.
For further protection, people are also welcomed to wear masks if they'd like.  Masks aren't required as we require the negative test results.  All shared rooms have air purifiers in them (gompa, dorms, quads, etc).  We appreciate your consideration and kindness while we all try to stay safe for a wonderful event.
10% Proceeds will go to International Rescue Committee (IRC)
It's important to practice engaged Buddhism as well, and in that spirit, we are donating 10% of proceeds from this retreat to IRC.  The IRC helps communities respond to the changing climate by mapping climate hazards and developing early warning systems, supporting local efforts to manage natural resources and conserve water, and training people in sustainable livelihoods. Throughout all this work, they put the needs of women and girls at the center of their programs.
The IRC also partners with other organizations to advocate for policy changes to drastically reduce greenhouse gas emissions and lessen the effects of climate change on people with the least power and fewest resources.
Additional Information
Additional Resources
"Ecology, Ethics, and Interdependence: The Dalai Lama in Conversation with Leading Thinkers on Climate Change" – Dunne & Gulman, 2018

"Our Only Home: A Climate Appeal to the World" – Dalai Lama & Franz Alt, 2020
www.10milliontaras.com – more information on the multi-state endeavor, drop in practice sessions, sample dedications, and more
Dalai Lama – The Future is in our Hands – YouTube video – Short inspirational video and message from His Holiness the Dalai Lama
Fees (includes accommodation, 3 meals a day, and facility costs)
The base fees listed above reflect the true cost of hosting visitors and are higher as a result. If you are financially able, we encourage you to please pay these fees.  That said, we also offer subsidized fees designed to allow as many people as possible to attend. These fees are supported by generous contributions to Vajrapani Institute. You can access those fees by using a discount code that will be provided to you at registration checkout. The accommodations are the same for both options.
Financial Aid/ Scholarships
We want to make retreat available to everyone. With this in mind, we will gladly work out a payment plan with you.If you need even more assistance, we offer several scholarships. Please note that the scholarship deadline is one month before retreat begins.
If you have additional questions after reviewing the guidelines for payment plans and/or scholarships, please email the Office at office@vajrapani.org. 
---
Teacher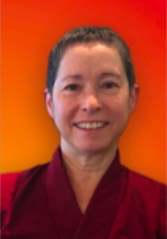 Venerable Gyalten Chimé
Venerable Gyalten Chimé (Lisa DuPont, M.S.), is an American Buddhist monastic in the Tibetan, Gelug tradition with over 25 years of  experience in study and retreat in Tibetan Buddhism with numerous Tibetan Masters. Ven. Chimé also brings her many years of training & experience in psychology/neuroscience as a school psychologist and is a certified instructor of Emory University's Cognitively Based Compassion Training (CBCT).
Learn more about Venerable Gyalten Chimé