Introduction to Buddhism
Venerable Tenzin Namjong
March 31 - April 9, 2023
This Introduction to Buddhism retreat will provide a concise yet complete overview of Tibetan Buddhist philosophy and practice. During this course, Venerable Namjong will explore the stages of the path to enlightenment, a genre of Buddhist teaching known as the Lamrim, and give practical instruction in order to help you apply this ancient wisdom to increase peace, happiness, and compassion in your daily life.  This retreat will include time for teachings, discussion, and meditation. Meditation practices will include concentration meditation to focus your mind, visualizations, and analytical meditation on Lamrim topics.  
Topics include:
The Life of the Buddha

The Four Noble Truths

The Mind, Emotions and Karma

The Wheel of Life

Concentration and Analytical Meditation

Love and Compassion

Wisdom – The Nature of Reality
The body of the course is composed of Buddhist teachings supported by discussion and meditation sessions, all within a retreat environment at Vajrapani Institute.  This 10-day immersive experience culminates with two days of intensive meditation giving participants a chance to gain insight into the topics covered in the teachings and to apply them to instill a deeper level of transformation.
Who is this for?
Students of any experience level will have an amazing opportunity to learn and grow from this course.  People encountering Buddhism for the first time will benefit from the concise overview of the entire Buddhist path and the ample opportunities to ask questions.  More experienced students will find it a valuable way to deepen their understanding and practice.  This course is an excellent complement to the FPMT (Foundation for the Preservation of the Mahayana Tradition) Discovering Buddhism (DB) Course and satisfies the lamrim retreat requirement.
Note to Discovering Buddhism (DB) Students
We have confirmed with the education program leaders that this course satisfies the lamrim retreat requirements for DB students wishing to complete their certifications.
Silence
Partial Silence  – there will be specific times where strict silence is kept, and other times allocated to facilitate discussion and conversation for students to bond and learn together.
Course Schedule
Day 1 – Check in, welcome talks, course introduction

Day 2 to 7 – Meditations, teachings, and discussion groups

Day 8 and 9 – Dedicated guided meditation days of practice

Day 10 – Final talks, Q&A, Teach offerings, Final group lunch and checkout
Covid Policies and Precautions
Rapid Test Required – To ensure everyone stays healthy and can participate in the retreat, we require everyone to take a home rapid covid test within 24 hours of arrival. Guests should take the test before coming, and can share a negative result by emailing office@vajrapani.org or showing the negative test result upon arrival.
Please note that it is the guest's responsibility to get a rapid test ( available at local pharmacies) and take it before arrival.  While we do stock some rapid tests, our supply goes down quickly and we can't stock enough for every guest.   PCR test results are also accepted.  Vaccine/Booster status cards do not negate the need for a negative rapid test result.
For further protection, people are also welcome to wear masks if they'd like.  Masks aren't required as we require the negative test results.  For added protection all shared rooms have air purifiers in them (gompa, dorms, quads, etc).  We appreciate your consideration and kindness while we all try to stay safe for a wonderful event.
Teacher's Offerings
Traditionally, spiritual teachings are considered priceless; remuneration of our teacher(s) is not included in the fee information detailed on this page. Instead, we invite you to consider bringing a cash donation with you to express your gratitude for the teachings. Participants get a chance to present a cash offering to the teachers on the last day of the retreat and this is supplemented by a donation from Vajrapani Institute. Please note that we don't offer a credit card option for teacher's fees.
Additional Information
Highlights
Check in is  between 3:00 and 5:00 PM on the first day of the retreat
Departing approximately 2:00 PM on the last day of the retreat after the group lunch
About Varjapani Institute
Vajrapani Institute for Wisdom Culture was the first Tibetan Buddhist Retreat Center in America.  Vajrapani aims to provide a friendly and conducive environment for people of all nationalities to learn and put into practice the teachings of the Buddha, and connect with other Dharma practitioners.  Located on 70 acres of secluded land within the redwood forests of the Santa Cruz mountains, Vajrapani Institute has been an immersive space for people of all backgrounds to find and deepen their spiritual practices, with the main goal of bridging the gap between the head and heart of practice.
About Retreat Fees (includes accommodation, 3 meals a day, and facility costs)
The collected registration fees include all accommodations, 3 nutritious vegetarian meals a day, and general facility/operating costs.  Retreat registrations help support the center to keep everything operating, allowing us to invite so many precious teachers, and to hold this precious space of 70+ acres of secluded redwood forest to allow guests to have the quiet, contemplative space to continue spiritual growth.
Financial Aid/ Scholarships
We want to make retreat available to everyone. With this in mind, we will gladly work out a payment plan with you if needed. If more assistance is necessary, we offer several scholarships. Please note that the scholarship deadline is one month before retreat begins.
Our utmost goal is to helps as many beings as possible to have the gift of retreat. If you have additional questions after reviewing the guidelines for payment plans and/or scholarships, please email the Office at office@vajrapani.org. 
Teacher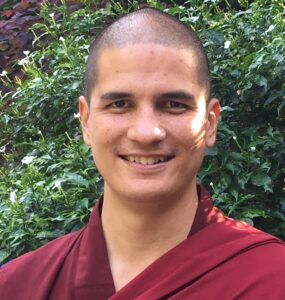 Venerable Tenzin Namjong
Born and raised in Hawaii, Venerable Tenzin Namjong studied philosophy at Princeton. His plan was to do a Ph.D. in philosophy, but he became disillusioned with academic philosophy because "it seemed to have lost the big picture, meaning how we should live our lives."  In Buddhism, he found  a rich philosophical tradition that was still very much connected to how we ought to live. Venerable Namjong studied and trained in Zen and Theravada traditions before embracing the Tibetan Buddhist tradition, due mainly to the kindness of His Holiness the Dalai Lama and Lama Zopa Rinpoche. He is currently studying in…
Learn more about Venerable Tenzin Namjong