Serenity and Joy Through Mindful Patience
Geshe Thubten Sherab
April 18 - 21, 2019
Level
All Levels
Silence Level
Partial silence
What is it?
"The practice of patience guards us against losing our presence of mind. It enables us to remain undisturbed, even when the situation is really difficult. It gives us a certain amount of inner peace, which allows us some self-control so that we can choose to respond to situations in an appropriate and compassionate manner, rather than being driven by our disturbing emotions."
—H.H. Dalai Lama
Patience is one of the great virtues. It is one of the Six Perfections to be cultivated on the bodhisattva path. Patience is the antidote to anger—the negative mind that can eradicate the virtues of countless past lifetimes.
Particularly in today's environment, patience is a virtue that is essential. Anger, hatred, intolerance and their consequences are creating enormous problems in our collective experience and the physical environment. We can change ourselves and find mental balance, one by one. Thus one by one, we can change our world and the environment.
Join Geshe Thubten Sherab as he leads this retreat on the famous Patience chapter in the classic Guide to the Bodhisattva's Way of Life (Bodhicaryavata) by the Indian master Shantideva. (It went "viral" in the 9th and 10th centuries with dozens of translations and commentaries throughout Asia.) This text is used by H.H. Dalai Lama as a basis for meditation every morning and has been the source of realizations and inspiration for many great masters over the centuries.
Geshe-la will use an experiential approach to show how we can use the concepts of impermanence, karma, wisdom, and compassion to practice patience in our daily lives and attack and eradicate our anger and annoyances, big and small.  His effervescent humor brings any topic he teaches to life.
The retreat will include readings and teachings along with guided meditations on the topics to generate deep conviction.
Harmful beings are everywhere like space itself.
Impossible it is that all should be suppressed.
But let this angry mind alone be overthrown,
And it's as though all foes had been subdued.
To cover all the earth with sheets of leather—
Where could such amounts of skin be found?
But with the leather soles of just my shoes
It is as though I cover all the earth!
And thus the outer course of things
I myself cannot restrain.
But let me just restrain my mind,
And what is left to be restrained?
—Shantideva, The Way of the Bodhisattva (tr. Padmakara Translation Group)
Suggested reading
The Way of the Bodhisattva, Shantideva. Translated by Padmakara Translation Group
---
Additional Information
Please plan on arriving between 3:00 and 5:00 PM on the first day of the retreat
Please plan on departing approximately 2:00 PM on the last day of the retreat
If you are interested in serving as Course Liaison for this retreat, please apply here.
Fees (includes accommodation, 3 meals a day, and facility costs)
The base fees listed above reflect the true cost of hosting visitors and are higher as a result. If you are financially able, we encourage you to please pay these fees.  That said, we also offer subsidized fees designed to allow as many people as possible to attend. These fees are supported by generous contributions to Vajrapani Institute. You can access those fees by using a discount code that will be provided to you at registration checkout. The accommodations are the same for both options.
10% membership discounts are also applicable for members (please contact the Main Office)
Financial Aid/ Scholarships
We want to make retreat available to everyone. With this in mind, we will gladly work out a payment plan with you.If you need even more assistance, we offer several scholarships. Please note that the scholarship deadline is one month before retreat begins.
If you have additional questions after reviewing the guidelines for payment plans and/or scholarships, please email the Office at office@vajrapani.org
Teacher's fees
Traditionally, spiritual teachings are considered priceless; remuneration of our teachers is not included in the fee information detailed on this page. Instead, we invite you to consider bringing a cash donation with you to express your gratitude for the teachings. Participants get a chance to present a cash offering to the teachers on the last day of the retreat and this is supplemented by a donation from Vajrapani Institute. Please note that we don't offer a credit card option for teacher's fees.
---
Teacher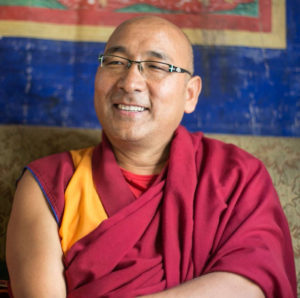 Geshe Thubten Sherab
Geshe Sherab was born in Manang, Nepal in 1967 as the second of five sons. He attended Kopan monastery at the age of 9 around 1976 and was ordained by Kyabje Lama Zopa Rinpoche. After 10 years of study in Kopan, he went to Sera Je Monastery for further studies in 1987, and graduated as a Geshe at the end of 1999. After that, he joined Gyumé Tantric College for a year and went on to teach young monks at Kopan for a year. In 2001 he was sent by Lama Zopa Rinpoche to New Mexico–to serve and help at the International Office of FPMT and teach at TNL in Santa Fe and Ksiti Garba Center in Taos as resident teacher. He also served as a Board Member of FPMT for 2 years during that period. By end of 2003 in December, he returned back to Nepal to do his own practices. In 2006 he was appointed as Head Master of Kopan monastery and served for 4 years. He served at as acting Abbot for a year in 2011 when the late Guru Khensur Rinpoche Lama Lhundup became ill. Since that time, Geshe Sherab has been teaching meditation courses at…
Learn more about Geshe Thubten Sherab