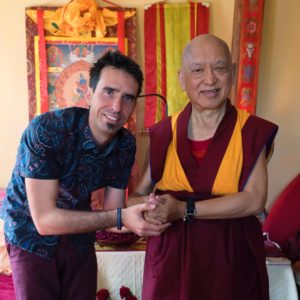 Tenzin Ösel Hita is a radical free-thinker, former monk, filmmaker, and musician.
Tenzin Ösel was born in 1985, in the village of Bubión at the foot of the Sierra Nevada, southeast of Granada, Spain. When he was 14 months old he was recognized by His Holiness the Dalai Lama as the reincarnation of Lama Thubten Yeshe, the founder of the Foundation for the Preservation of the Mahayana Tradition (FPMT). He is one of only a handful of non-Tibetans formally recognized as the reincarnation of a Tibetan master.
He was educated in the traditional Tibetan Buddhist monastic university system at Sera Monastery in South India, where he lived and studied until he was 18. He also received a Western education and since leaving the monastery has lived, studied, and explored cultures and ways of life all over the world.
"I'm on the path of trying my best to be a Buddhist, with the philosophy of Dharma in my heart," Ösel says. "I am going to be learning all my life. I'm sharing my experiences so we can grow together, as we are all interdependent, and living within a collective omniverse sharing so many things: air, space, resources, information, technology, energy. We are all students on this planet, always learning together. Deep within each of us, no matter where we've come from or what life experiences we've had, is an inexhaustible source of wisdom and compassion."
See more about Ösel and his schedule at his website.