Power of Mantra Retreat ONLINE – Purification
Bhikshuni Lozang Yönten
October 27 - 30, 2022
This is the registration for the ONLINE RETREAT only.
The last of three complimentary, weekend retreats to the Power of Mantra series with Ven. Yönten.  This weekend retreat aims to demystify Deity-Yoga (Buddhist Tantra) practice for students of Buddhism who are newer to these practices and also invites depth and richness to the practice of senior students. This retreat will explore the main Kriya (Action) Tantra deities of purification (35 Buddhas and Vajrasattva) introduced in the online program.  Being a participant of the online program isn't required, but strongly recommended.
This retreat will be a mediation intensive to allow students to dive deeper into the sadhanas (tantric practice manuals) specific to the deity-yoga practices taught in the Power of Mantra Tue/Thu class.
There will be four deity-yoga meditation sessions that will include prayers, mantra chanting, and silent meditation, as well as one session a day devoted to Q&A to  clarify practice and questions that may arise.
When

:
Thur, October 27 – Sun, October 30
Prerequisites:
Respect for Tantra and having Buddhist Refuge are a requirement for attendance.
Schedule (tentative):
Thursday, Oct 27
Evening Session: 7-8:30pm
Friday, Oct 28 & Saturday, Oct 29
Session 1: 7-8am
Session 2: 9-12pm (with breaks)
Session 3: 2:30 – 5pm
Session 4: 7:00-8:30pm
Sunday, Oct 30
Session 1: 7-8am
Session 2: 10-12pm
---
Teacher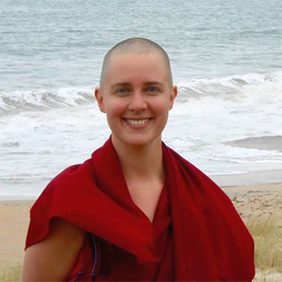 Bhikshuni Lozang Yönten
Bhikshuni Lozang Yönten is an American-born Buddhist nun in the Tibetan tradition who was ordained in 2003. A practicing Buddhist since 1994, Ven. Yönten moved to Chenrezig Institute in Australia and studied intensively under Khensur Rinpoche Geshe Tashi Tsering (Lharampa Geshe from Sera Je Monastery and former Abbot of Gyü-me Tantric College) from 2002 – 2009, completing their Buddhist Studies Program. She then continued to study, retreat and offer service at Dharma Centers in India and Taiwan as well as Australia and New Zealand, becoming an In-Depth Registered Teacher within the Foundation for the Preservation of the Mahayana Tradition (FPMT)…
Learn more about Bhikshuni Lozang Yönten