Six Session Guru Yoga
Bhikshuni Lozang Yönten
July 7 - 9, 2023
The six-session yoga practice is a way of helping us to fulfill our commitments from anuttarayoga tantra initiation, by reminding us of the vows that we've taken and also the nineteen samaya to make a close connection with the five Buddha-families, which deal with the various aspects of Buddha-nature.
The Six Session Guru Yoga practice is given to those who have taken a highest yoga tantra empowerment — with the mandate to do it for life. But why is this practice so important, and how do we keep it alive and fresh day after day, year after year?
Join us for this rare retreat with an experienced practitioner and teacher.  Ven. Yönten studied this practice formally in Chenrezig Institute's Advanced Buddhist Studies Program in Australia with the former Abbott of Gyudmed Tantra college: Khensur Rinpoche Geshe Tashi Tsering as well as with Geshe Lobsang Jamyang. She will also draw from a number of valid commentaries and her own relationship with the practice to facilitate an in-depth experience of this practice as well as to engage tantric community support and collaboration.
Student Level
To attend this teaching you must have received highest yoga tantra initiation. Please contact spc@vajrapani.org with questions on this requirement.
How to Apply
To apply to the retreat, please verify your highest yoga tantra initiations by using this google form:
Upon review, you will be sent the passcode and link to register here.
Additional Information
Highlights
Check in is  between 3:00 and 5:00 PM on the first day of the retreat

Departing approximately 2:00 PM on the last day of the retreat after the group lunch
About Varjapani Institute
Vajrapani Institute for Wisdom Culture was the first Tibetan Buddhist Retreat Center in America.  Vajrapani aims to provide a friendly and conducive environment for people of all nationalities to learn and put into practice the teachings of the Buddha, and connect with other Dharma practitioners.  Located on 70 acres of secluded land within the redwood forests of the Santa Cruz mountains, Vajrapani Institute has been an immersive space for people of all backgrounds to find and deepen their spiritual practices, with the main goal of bridging the gap between the head and heart of practice.
About Retreat Fees (includes accommodation, 3 meals a day, and facility costs)
The collected registration fees include all accommodations, 3 nutritious vegetarian meals a day, and general facility/operating costs.  Retreat registrations help support the center to keep everything operating, allowing us to invite so many precious teachers, and to hold this precious space of 70+ acres of secluded redwood forest to allow guests to have the quiet, contemplative space to continue spiritual growth.
Financial Aid/ Scholarships
We want to make retreat available to everyone. With this in mind, we will gladly work out a payment plan with you if needed. If more assistance is necessary, we offer several scholarships. Please note that the scholarship deadline is one month before retreat begins.
Our utmost goal is to helps as many beings as possible to have the gift of retreat. If you have additional questions after reviewing the guidelines for payment plans and/or scholarships, please email the Office at office@vajrapani.org.
Teacher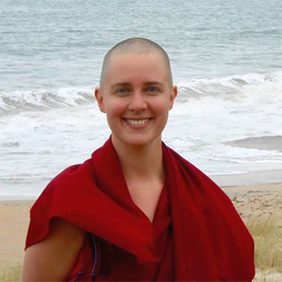 Bhikshuni Lozang Yönten
Bhikshuni Lozang Yönten is currently the Chaplain and Lecturer of a Buddhist Studies at Maitripa College in Portland, Oregon. Ven. Yönten has been a nun since 2003.  Buddhist since her teenage years, Ven. Yönten moved to Australia and studied extensively under Gyurmé Khensur Rinpoche Geshe Tashi Tsering (at Chenrezig Institute, AU) from 2002-2009 before moving to India to study at Thosamling Institute 2010-2011. In 2012, she became an accredited In-Depth Registered Teacher with FPMT and was requested to become the Resident Teacher at Kunsang Yeshe Retreat Centre in New South Wales, Australia where she remained for three years and frequently…
Learn more about Bhikshuni Lozang Yönten