Tong-len Retreat
Venerable Gyalten Chimé
August 31 - September 3, 2023
Tong-len is a practice whereby the breath becomes the support for removing suffering and negativity and sending out happiness and well-being. Together, the practices allow for greater clarity and the warmth of loving more whole-heartedly, without bias.
Using the deity Vajrasattva as the support, we start with purification practice that helps remove obstacles relating to our karma, and downfalls due to pride, past and present.
The weekend will consist of teachings and practice on the Tibetan Buddhist practice of 'tong-len', as well as periods of silence where folks will have the opportunity to go deeper into the meditation.
Student Level
This retreat will be led by Gyalten Chime, and while anyone can practice Tong-len with no previous experience in Buddhism, this is a Buddhist spiritual practice and as such, the retreat will include prayers and meditations involving Refuge in the three Jewels of Buddhism ( Buddha , Dharma and Sangha) as well as  "deity" visualizations. Folks attending who are not Buddhists are welcome to attend, with support and opportunity to alter the Tong-len practice to meet their specific needs. Buddhist students who are more familiar with the meanings of the visualizations can also benefit from the chance for more focused group practice.
Teacher's Offerings
Traditionally spiritual teachings are considered priceless. Ven Gyalten Chime does not charge for any of her dharma teachings or retreats. Any cash offerings to her are optional and are not included in the Vajrapani retreat fee information on this page. For any participants who wish to present a cash offering to the teacher, you will have  a chance on the last day of the retreat and this is supplemented by a donation from Vajrapani Institute. Please note we don't have any way for you to make an offering to the teacher via credit card.
Additional Information
Highlights
Check in is  between 3:00 and 5:00 PM on the first day of the retreat

Departing approximately 2:00 PM on the last day of the retreat after the group lunch
About Varjapani Institute
Vajrapani Institute for Wisdom Culture was the first Tibetan Buddhist Retreat Center in America.  Vajrapani aims to provide a friendly and conducive environment for people of all nationalities to learn and put into practice the teachings of the Buddha, and connect with other Dharma practitioners.  Located on 70 acres of secluded land within the redwood forests of the Santa Cruz mountains, Vajrapani Institute has been an immersive space for people of all backgrounds to find and deepen their spiritual practices, with the main goal of bridging the gap between the head and heart of practice.
About Retreat Fees (includes accommodation, 3 meals a day, and facility costs)
The collected registration fees include all accommodations, 3 nutritious vegetarian meals a day, and general facility/operating costs.  Retreat registrations help support the center to keep everything operating, allowing us to invite so many precious teachers, and to hold this precious space of 70+ acres of secluded redwood forest to allow guests to have the quiet, contemplative space to continue spiritual growth.
Financial Aid/ Scholarships
We want to make retreat available to everyone. With this in mind, we will gladly work out a payment plan with you if needed. If more assistance is necessary, we offer several scholarships. Please note that the scholarship deadline is one month before retreat begins.
Our utmost goal is to helps as many beings as possible to have the gift of retreat. If you have additional questions after reviewing the guidelines for payment plans and/or scholarships, please email the Office at office@vajrapani.org.
Teacher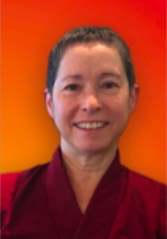 Venerable Gyalten Chimé
Venerable Gyalten Chimé (Lisa DuPont, M.S.), is an American Buddhist monastic in the Tibetan, Gelug tradition with over 25 years of  experience in study and retreat in Tibetan Buddhism with numerous Tibetan Masters. Ven. Chimé also brings her many years of training & experience in psychology/neuroscience as a school psychologist and is a certified instructor of Emory University's Cognitively Based Compassion Training (CBCT).
Learn more about Venerable Gyalten Chimé