Online: Bodhicitta, Mind Training and Mahamudra
Venerable René Feusi
May 9 - November 7, 2023
ZOOM CLASS ONLY
When
Tuesdays, 9:00am – 10:45am (Pacific Time)
Begins Tuesday May 9 and will repeat every Tuesday for several months (ending date TBD)
Hosting & Registration
Please note this program is being advertised here but hosted by some volunteers outside of Vajrpani Institute.  To register simply fill out the google form at this Registration Link.
Once you register you will be added to the email list and the zoom link will be sent out through that list.  Additionally, a reminder will be sent before the session with information on how to access the Zoom meeting.
Please try to join the sessions a little early to sort out any technical issues and to be ready for a 9am start of the class.  ​
Prerequisites
There are no restrictions for participating in this class, so everyone is welcome to give it a try.
About
In this Zoom class we will be meditating on guru yoga using the Hundreds Deities of the Land of Joy, followed by Mahamudra based mostly on the Gelug Kagyu Tradition of Mahamudra, then deepen our Bodhicitta and Mind Training.
The class will last about 90 minutes, followed for those who like to stay a bit longer by Q&A for 15 minutes.
In order to create a group atmosphere l am requesting you to leave your camera on during the class,  except for those who have technical difficulties.
The class will be once a week on Tuesdays at 9am Pacific Daylight Time, 5pm UK (British Summer Time) Teachings will go on for a few months, starting May 9th
There will be audio recordings available for those who like to listen to the missed classes.
Also, for those who like we will use again the Facebook " Lamrim Mahamudra" page to communicate with each other about the class for those who so like.
Questions or concerns, please email the organizer here.  
Donations
Through the generosity of Venerable Rene, this program is offered freely to the FPMT community.  To make an offering support for Venerable Rene directly, please use this paypal link. 
Teacher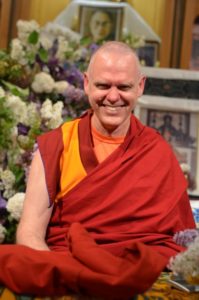 Venerable René Feusi
Venerable René Feusi has been trained in the Gelugpa tradition of Tibetan Buddhism in the experiential lineage of Lama Yeshe and Lama Zopa Rinpoche. He has been sharing this experiential approach for over 25 years. He helps students get an intuition of their own inner potential and inspires them to become mediators themselves. For the past 7 years Ven. René has spent the majority of his time in partial retreat. Venerable René's fascination for how the mind works and how it can be positively transformed is infectious,"Life is exciting. The spiritual journey is about becoming a better human being and giving…
Learn more about Venerable René Feusi