Discovering Buddhism Module 12: Wisdom of Emptiness
Venerable Amy Miller
January 25 - March 11, 2023
All the 84,000 teachings the Buddha gave were ultimately to help us attain a direct perception of emptiness. That's how important the profound experience of emptiness is on the path to enlightenment.
In this module of Discovering Buddhism, we will delve into the methods for bringing about the realization of emptiness, which is crucial for the attainment of liberation and enlightenment.
We will explore such questions as:
What is emptiness?
What is the relationship between emptiness, liberation, and enlightenment?
What is the relationship between emptiness and dependent arising?
What are the different ways to meditate on emptiness?
How can we realize emptiness?
We will also learn how to develop calm abiding (shamata), the ability to remain focused in meditation for long periods of time without distraction, and understand how best to use that to meditate on emptiness. We will also discuss the accumulation of merit and purification of obstacles, which are indispensable for generating realizations.
This is the 12th in a series of 14 modules covering the complete Buddhist path to enlightenment. Students may join at any point in the cycle yet for this module it is helpful to have some background in Buddhism. Discovering Buddhism is designed for students who wish to deepen their understanding of fundamental Buddhist concepts. Each module includes teachings, meditations, readings, assessment questions, and a short half-day retreat.
Schedule
Wednesday evening classes (6 weeks), via Zoom or in person; plus a practice session on Sunday March 11th.
Jan 25, 2023 6:00-7:30 PM (PDT) – Zoom or in person at Tse Chen Ling
Feb 1, 2023 6:00-7:30 PM – Zoom or in person at Land of Medicine Buddha
Feb 8, 2023 6:00-7:30 PM – Zoom or in person at Tse Chen Ling
Feb 15, 2023 6:00-7:30 PM – Zoom or in person at Land of Medicine Buddha
Feb 22, 2023 6:00-7:30 PM – Zoom or in person at Tse Chen Ling
Mar 1, 2023 6:00-7:30 PM – Zoom or in person at Land of Medicine Buddha
Mar 11, 2023 01:00 – 4:00pm PM (Practice Day) – Zoom or in person at Land of Medicine Buddha
Teacher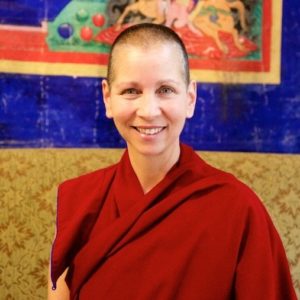 Venerable Amy Miller
Venerable Amy J. Miller (Ven. Lobsang Chodren) first encountered Tibetan Buddhism in the spring of 1987 during a course at Kopan Monastery in Nepal. Since then, she has spent her time engaged in meditation retreats, study, teaching, and Buddhist center management throughout the world. Before meeting the Dharma, Ven. Amy was a political fundraiser in Washington, DC, and also worked for Mother Jones Magazine in San Francisco, California. Ven. Amy also trained as an emotional support hospice counselor during the peak of the AIDS epidemic in San Francisco and offers courses and retreats on death and dying and end-of-life care.…
Learn more about Venerable Amy Miller