Four Weeks of Self Compassion
Venerable Gyalten Chimé
October 6 - 27, 2022
When:
4 Thursdays in October – Oct 6, 13, 20, 27
6:00-7:30pm PT
Location:
740 Front St. Suite 250 – Building B
Santa Cruz, CA
(front door opens up to back patio of Mobo Sushi, except it's on 2nd floor)
Prerequisites:
None – Open to all students
About: 
Learn meditations & reflections that build: self-care, personal resilience & deeper connection with yourself and others.
Evidence shows self-compassion is related to psychological health & serves as an internal source of resiliency. Self-compassion is not self-pity or self-absorption. We'll discuss how they differ & how self compassion is essential before expanding it to others.
Class is based on various works on compassion, some from Cognitively Based Compassion Training CBCT®
Week 1 – Attention Stability & Self Nurturance ( October 6)
Week 2 – Awareness of Mind & Melting barriers to Self Care ( October 13)
Week 3 – Diving deeper into Self Compassion (October 20)
Week 4 – Resiliency : Reaching In and Out ( October 27)
No set fee – we are offering this class purely on donation basis
Students are encouraged to attend all classes, and space is limited.  Please register to save a spot.
Teacher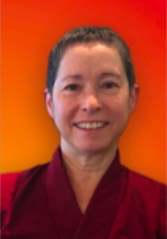 Venerable Gyalten Chimé
Venerable Gyalten Chimé (Lisa DuPont, M.S.), is an American Buddhist monastic in the Tibetan, Gelug tradition with over 25 years of  experience in study and retreat in Tibetan Buddhism with numerous Tibetan Masters. Ven. Chimé also brings her many years of training & experience in psychology/neuroscience as a school psychologist and is a certified instructor of Emory University's Cognitively Based Compassion Training (CBCT).
Learn more about Venerable Gyalten Chimé