Vajrayogini Enabling Action Retreat
Bhikshuni Lozang Yönten
November 11 - December 10, 2022
Vajrayogini is a meditation practice of Buddhism in the category of Highest Yoga Tantra and requires the appropriate empowerment.  This is an approach retreat for Vajrayogini, a full qualifying retreat with fire puja, which enables one to do self-empowerment, consecration, and so on.
Prerequisite
Vajrayogini initiation from a qualified teacher
Why a waitlist?
Vajrapani Institute is testing the waters to see who may be interested in joining this long retreat.  Such an endeavor requires at least 15 students and 6-8 part, or full, time volunteers (mainly for kitchen support).
We are putting this sign up to gather interested parties to see if we can put on such an event. If you have the appropriate empowerments and are interested in attending, please fill out the free registration wait list.
Volunteer Support
To put on this event, we will need 6-8 volunteers to work during the retreat.  We are asking volunteers to commit to 4-day blocks, at the minimum, over the course of the 4 week retreat.
We are specifically looking for:
Lead Cooks (run a kitchen and cook for 20-30 people)
Support Cooks (support a lead cook, can manage 2-3 retreaters who will help do meal prep)
Floating Support (be on call support as things come up in the gompa, on the land, running errands to town, light housekeeping, etc.)
If you are available to help for 4-7 days (or more) during the event dates, please email us with what role(s) you could take on.  Please email Joe (joe@vajrapani.org) to apply as a volunteer.
Deadlines
The deadline for waitlist interest and volunteers is September 1st.  To put on this retreat, we are asking for 15 people interested in the retreat (and can do the full 4 weeks) along with at least 6 volunteers.  If we gather enough interested parties then a proper registration will be created and shared in early September.
Teacher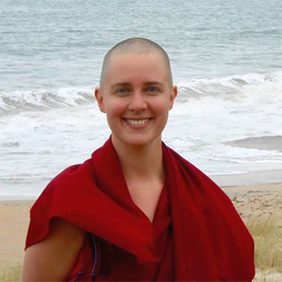 Bhikshuni Lozang Yönten
Bhikshuni Lozang Yönten is an American-born Buddhist nun in the Tibetan tradition who was ordained in 2003. A practicing Buddhist since 1994, Ven. Yönten moved to Chenrezig Institute in Australia and studied intensively under Khensur Rinpoche Geshe Tashi Tsering (Lharampa Geshe from Sera Je Monastery and former Abbot of Gyü-me Tantric College) from 2002 – 2009, completing their Buddhist Studies Program. She then continued to study, retreat and offer service at Dharma Centers in India and Taiwan as well as Australia and New Zealand, becoming an In-Depth Registered Teacher within the Foundation for the Preservation of the Mahayana Tradition (FPMT)…
Learn more about Bhikshuni Lozang Yönten