Power of Mantra: Hybrid Class with Ven. Yönten
Bhikshuni Lozang Yönten
Open Dates
A new series of classes based on Lama Zopa Rinpoche's latest book Power of Mantra. 
This series will bring light to the mysteries of Buddhist Tantra in a way that is accessible to beginners, yet which is still profound for the experienced practitioner. By exploring mantra, visualization, symbolism, and technique, a more comprehensive understanding of when and how to properly use these different deity yoga practices can be gained.
The weekly class will gradually work through Lama Zopa Rinpoché's new book, "The Power of Mantra" and includes in-depth companion presentations from Vajrapani's new teacher-in-residence, Venerable Yönten. 
In addition to being a profound resource for the study and practice of Buddhist tantra, this is also an incredibly comprehensive introduction and summary of the main Buddhist deities, their mantras, and what they represent. You will learn about the philosophy and psychology behind Buddhist Tantric practice, how to weave these ideas into your existing meditation practice, as well as their application in daily life. These classes will be open and flexible for plenty of questions with room for dynamic discussion as well. Classes will be open and flexible, leaving plenty of time for Q&A and open discussion.
When:
Tuesdays and Thursday evenings online, or in person (if local), with optional, add-on, in-person weekend retreats during September and October.
Dates: Sept 6 (first class), Sept 8, Sept 13, Sept 15, Sept 27, Sept 29, Oct 4, Oct 6, Oct 11, Oct 18, Oct 20, Oct 25 (last class)
Time: 6pm-7:30pm PDT (Pacific Daylight Time)
Prerequisites:
Respect for Tantra and having Buddhist Refuge are a requirement for attendance.
Registration:
We are using the Zoom video conferencing system for this class. Please register below to receive your online access information.  Optionally, if you are local and would like to attend in person then we will hold the class in the main gompa. 
Want to Attend in Person?
In person attendance is possible.  We will be streaming the teaching from the Chenrezig Gompa.  To join, please park in the front parking lot, walk towards the lodge and look for the small office/gompa building to the right of the lodge.
Optional add-on Retreats: 
Look at the Vajrapani Institute retreats page for optional weekend retreats for this program.  Weekend retreats will be meditation-originated intensives to go more experientially into these practices. Here we will use sadhanas (tantric practice manuals) specific to the deity-yoga practice of that weekend. There will be four deity-yoga meditation sessions that will include prayers, mantra chanting and silent meditation as well as one session a day devoted to clarifying the practice and questions that may arise.
---
Teacher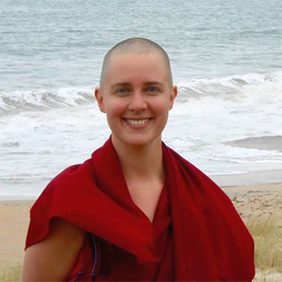 Bhikshuni Lozang Yönten
Bhikshuni Lozang Yönten is an American-born Buddhist nun in the Tibetan tradition who was ordained in 2003. A practicing Buddhist since 1994, Ven. Yönten moved to Chenrezig Institute in Australia and studied intensively under Khensur Rinpoche Geshe Tashi Tsering (Lharampa Geshe from Sera Je Monastery and former Abbot of Gyü-me Tantric College) from 2002 – 2009, completing their Buddhist Studies Program. She then continued to study, retreat and offer service at Dharma Centers in India and Taiwan as well as Australia and New Zealand, becoming an In-Depth Registered Teacher within the Foundation for the Preservation of the Mahayana Tradition (FPMT)…
Learn more about Bhikshuni Lozang Yönten