Book Club: Approaching the Buddhist Path with Ven. Chimé
Venerable Gyalten Chimé
September 14 - November 2, 2022
When:
Wednesdays, 4:00 – 5:30 PDT (Pacific Daylight Saving Time)
Sept 14 – November 2, 2022 (8 classes, but may go longer depending on the group's progression)
Prerequisites:
None – Open to all students
Registration:
We are using the Zoom video conferencing system for this class. Please register below to receive your online access information.
About The Book: 
The Library of Wisdom & Compassion Series was created by His Holiness the Dalai Lama and Venerable Thubten Chodron as a bridge between the extensive and profound Lamrim and the modern mindset and lifestyle. It brings the heart teachings and history of Buddhism forth in an easy to read format that is accessible to everyone. 
The Buddha taught his students to investigate his teachings for themselves. The book club provides the space to do just that. It is a unique opportunity to discuss Dharma in a casual setting amongst friends. Through teachings, discussion, break out group activities, Q&A, and meditation, Venerable Chimé will provide a safe space for learning, deep contemplation, and the exploration of some of the most profound and interesting topics known to humankind.
The first book in the series, Approaching the Buddhist Path, includes a variety of perspectives on Buddhism and its colorful history, as well as parallels with modern psychology, science, and His Holiness's personal experience. It begins in the heart with the universal wish for human happiness we all share and expands out into the dynamic nature of the mind, and how to walk the path in a challenging world.  
Dive into this brilliant collaboration of His Holiness the Dalai Lama's ancient wisdom and modern awareness,  coupled with the editing and framing skills of highly regarded, American nun and Abbess, Venerable Thubten Chodron.
Zoom Link will be sent a few days before the Wednesday night class.
---
Teacher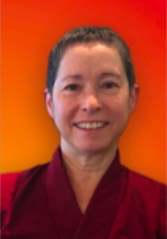 Venerable Gyalten Chimé
Venerable Gyalten Chimé (Lisa DuPont, M.S.), is an American Buddhist monastic in the Tibetan, Gelug tradition with over 25 years of  experience in study and retreat in Tibetan Buddhism with numerous Tibetan Masters. Ven. Chimé also brings her many years of training & experience in psychology/neuroscience as a school psychologist and is a certified instructor of Emory University's Cognitively Based Compassion Training (CBCT).
Learn more about Venerable Gyalten Chimé