Online Meditation,Tara Practice and Q&A
Venerable Amy Miller
May 11, 2020
When:
4:30pm – 5:30pm, Mondays (May 4 & 11)
What is it:
An opportunity to come together to connect, settle into space with others and yourself while deepening your connection with Tara the Liberator, the female Buddha who is so beloved to many Tibetan Buddhist practitioners.
Ven. Amy has kindly agreed to lead us in this time together via zoom which will include:
Time to arrive and connect
Setting a motivation
A grounding, calming meditation
The Tara Practice and mantras
Space for Q&A at the end.
His Holiness the Dalai Lama has particularly recommended this practice for our current times.  And Lama Zopa Rinpoche shares, "… For the success of your Dharma practice, of your actualizing the graduated path to enlightenment, you must rely upon a special deity, or Buddha, such as Tara. All the actions of the Buddhas have manifested in this female aspect of Buddha, Tara the Liberator, in order to help living beings to accomplish successfully both temporal and ultimate happiness."
Resources related to Tara:
Additional Information:
After registration, call in information will automatically be sent to you.
These virtual practice sessions are offered for free, with an opportunity to leave a donation to support the center if you feel moved or are able.
Teacher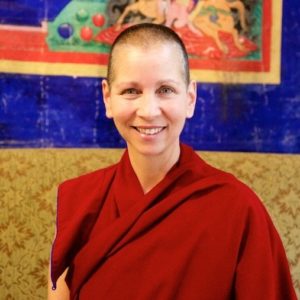 Venerable Amy Miller
Venerable Amy J. Miller (Ven. Lobsang Chodren) first encountered Tibetan Buddhism in the spring of 1987 during a course at Kopan Monastery in Nepal. Since then, she has spent her time engaged in meditation retreats, study, teaching, and Buddhist center management throughout the world. Before meeting the Dharma, Ven. Amy was a political fundraiser in Washington, DC, and also worked for Mother Jones Magazine in San Francisco, California. Ven. Amy also trained as an emotional support hospice counselor during the peak of the AIDS epidemic in San Francisco and offers courses and retreats on death and dying and end-of-life care.…
Learn more about Venerable Amy Miller