The Heart of Chenrezig: Mindfulness, Self-Compassion & Meditation Techniques for Challenging Times
Venerable Amy Miller
February 27 - March 1, 2020
Level
All levels
Silence Level
Partial
What is it?
Daily life can be overwhelming, especially in a world that sometimes appears cruel, angry, polarized, and fixated on material gain. A fast-paced treadmill of goals and responsibilities at home and at work can also add to the pressure. Anxiety, depression, and stagnation follow, and in a bid to protect ourselves, whether consciously or not, many of us harden our hearts and fall into a rushed and mechanical way of living. Our coping mechanisms may be to fall into judgment of self or others, or we may numb out. By responding in this way, an authentic dynamic flow of who we really are, and our inter-connectedness, gets blocked. A negative ruminating mind takes over.
The good news is there's a way out of this cycle! This is the perfect moment to pause, step back and gain a broader, healthier perspective. Using time-honored spiritual tools, as well as modern psychological insights, we can bring presence, clarity, compassion, joy and connection back into our lives.
Chenrezig, in Tibetan Buddhism, embodies the Infinite Compassion of the Awakened Mind. Exploring a simple Chenrezig practice along with mantra recitation, participants can not only expand their view beyond their own boundaries of self-reflection, but can also develop a greater sense of compassion for themselves and others.
In this program, Ven. Amy Miller will help us explore how being present with our pain, fear and aversion, and moving with kindness and mindfulness through these less than comfortable mind states, is the key to transformation.
Ven. Amy is also planning to lead a Pilgrimage and Retreat in Nepal in 2020, from May 10 – 28. Pilgrims will trek with Ven. Amy to Lawudo Retreat Center in the Mount Everest region of Nepal. A 3-day retreat will be included, along with a visit to Lama Zopa Rinpoche's birthplace. Registration is open! Please see the detailed itinerary and how to register at www.AmyMiller.com or contact lawudopilgrimage@gmail.com
---
Additional Information
Please plan on arriving between 3:00 and 5:00 PM on the first day of the retreat
Please plan on departing approximately 2:00 PM on the last day of the retreat
If you are interested in serving as Course Liaison for this retreat, please apply here.
Fees (includes accommodation, 3 meals a day, and facility costs)
The base fees listed above reflect the true cost of hosting visitors and are higher as a result. If you are financially able, we encourage you to please pay these fees.  That said, we also offer subsidized fees designed to allow as many people as possible to attend. These fees are supported by generous contributions to Vajrapani Institute. You can access those fees by using a discount code that will be provided to you at registration checkout. The accommodations are the same for both options.
10% membership discounts are also applicable for members (please contact the Main Office)
Financial Aid/ Scholarships
We want to make retreat available to everyone. With this in mind, we will gladly work out a payment plan with you.If you need even more assistance, we offer several scholarships. Please note that the scholarship deadline is one month before retreat begins.
If you have additional questions after reviewing the guidelines for payment plans and/or scholarships, please email the Office at office@vajrapani.org
Teacher's fees
Traditionally, spiritual teachings are considered priceless; remuneration of our teachers is not included in the fee information detailed on this page. Instead, we invite you to consider bringing a cash donation with you to express your gratitude for the teachings. Participants get a chance to present a cash offering to the teachers on the last day of the retreat and this is supplemented by a donation from Vajrapani Institute. Please note that we don't offer a credit card option for teacher's fees.
---
Teacher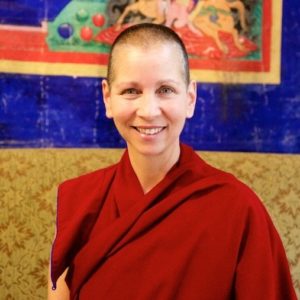 Venerable Amy Miller
Venerable Amy J. Miller (Ven. Lobsang Chodren) first encountered Tibetan Buddhism in the spring of 1987 during a course at Kopan Monastery in Nepal. Since then, she has spent her time engaged in meditation retreats, study, teaching, and Buddhist center management throughout the world. Before meeting the Dharma, Ven. Amy was a political fundraiser in Washington, DC, and also worked for Mother Jones Magazine in San Francisco, California. Ven. Amy also trained as an emotional support hospice counselor during the peak of the AIDS epidemic in San Francisco and offers courses and retreats on death and dying and end-of-life care.…
Learn more about Venerable Amy Miller