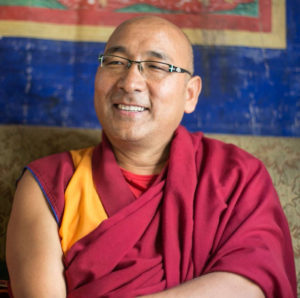 Geshe Sherab was born in Manang, Nepal in 1967 as the second of five sons. He attended Kopan monastery at the age of 9 around 1976 and was ordained by Kyabje Lama Zopa Rinpoche. After 10 years of study in Kopan, he went to Sera Je Monastery for further studies in 1987, and graduated as a Geshe at the end of 1999. After that, he joined Gyumé Tantric College for a year and went on to teach young monks at Kopan for a year.
In 2001 he was sent by Lama Zopa Rinpoche to New Mexico–to serve and help at the International Office of FPMT and teach at TNL in Santa Fe and Ksiti Garba Center in Taos as resident teacher. He also served as a Board Member of FPMT for 2 years during that period. By end of 2003 in December, he returned back to Nepal to do his own practices. In 2006 he was appointed as Head Master of Kopan monastery and served for 4 years. He served at as acting Abbot for a year in 2011 when the late Guru Khensur Rinpoche Lama Lhundup became ill.
Since that time, Geshe Sherab has been teaching meditation courses at Kopan Monastery, as well as traveling and teaching in the US, Canada, many parts of Europe, Asia, Mexico, Guatemala, and Australia.
Geshe-la teaches in English.